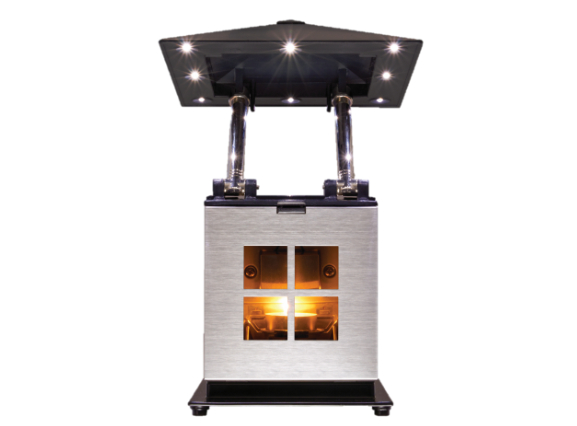 How Does the Heat Turn to Light?
Crafted with innovation, JOI uses thermoelectric technology to convert heat into electricity. The patented design features a unique thermoelectric module at the core of the JOI Lamp which absorbs heat created by a candle flame, resulting in a hot side and a cool side on the module. This phenomenon, also called the "Seebeck Effect", causes electrons to flow within the module and generate power to activate the lamp's eight LED lights. An innovative alternative to electric, battery or solar powered lighting solutions, JOI makes ingenious lighting sustainable.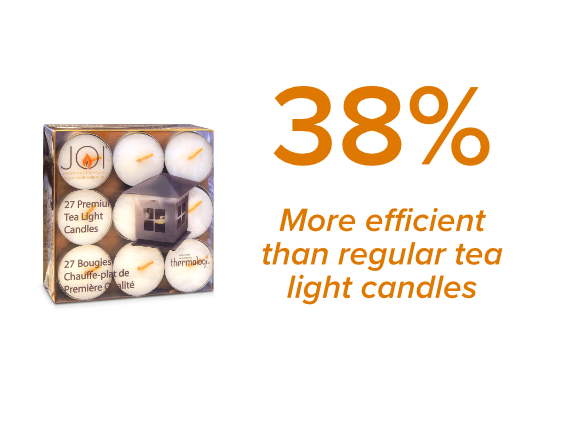 Why Our Candles
Outshining look-alike products in quality and performance, the function of the JOI Premium Tea Lights cannot be overstated. Custom manufactured to be the only source of energy needed to power the JOI Lamp, the candles are proven to optimize lighting potential when used together. A comparative test which measured the amount of visible light emitted (lumens), revealed that the less effective stock tea light produced 48 lumens, in contrast to the Premium Tea light which produced 77 lumens.
Composition matters too. The Premium candle's braided wick burns evenly with the wax to maximize the tea light's efficiency and minimize soot emission. Burning lower grade candles can result in air quality contamination, especially when used indoors. With this in mind, the JOI Premium Tea Light is also fragrance-free, making it safe for indoor use.

Like the JOI Lamp, Caframo shines brightly in the community by the warmth its staff provide. However, where the JOI Lamp is powered from the heat provided by just one tealight candle, Caframo's reputation comes from many members of a team working together to accomplish common goals.
Each year, Caframo staff choose a local charity as the recipient of donations raised through a variety of charitable acts. From an ever-stocked snack cabinet to an Easter basket raffle, Caframo staff donate generously each and every day.
In addition, in and out of office events add to Caframo's warmth and family feel. Some are educational, some are fun, and some are both – why make them mutually exclusive? Caframo knows that a happy staff is as important as an informed one. Of course, we can't forget well fed, because if the event isn't centered around food, it's still safe to say food will be involved! You could say food is our tealight candle, powering a happily educated workforce under the shining canopy that is Caframo.